The Ultimate Garden Tool --
a searchable reference collection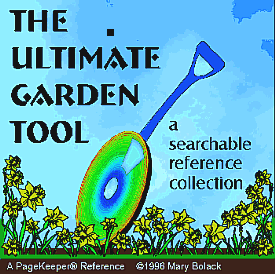 Experience is the essential ingredient in a successful garden. But if you don't have experience with a particular plant, task, or problem, it's nice to have a panel of experts at your beck and call. Then when you need to know how to deal with that dry shady nook in your yard, or what that strange red bug is, you'll know you're getting advice you can trust.
The Ultimate Garden Tool--A Searchable Reference Collection (Electric Mulch, Ltd.) brings that panel of experts right to your keyboard. This CD contains over 14000 pages of information from respected authorities across the nation. Just type in a query and you get a prioritized list of documents that answer your question.
The documents come from cooperative extension services across the country, as well as plant societies, urban garden associations and others who deal with gardening pleasures and problems daily. Over 3000 separate documents mean that you get information that applies to your plants, in your own area of the country, rather than general answers that try to satisfy people in a number of growing climates. Because all documents are credited to their sources, professionals can quickly and easily document the recommendations they give to their clients.
A powerful, easy-to-use PageKeeper® document database, the reference allows you to do several different types of searches that bring you a list of documents prioritized in order of importance to your question. Simply clicking a button brings you directly to the search word in each document, saving you valuable time. And once the needed information has been located, you can print or fax it in text and/or image form.
Many can be viewed as both text and image files, and many include excellent line art to help identify plants and pests, to offer ideas for landscape design, or to illustrate how to accomplish their specific task.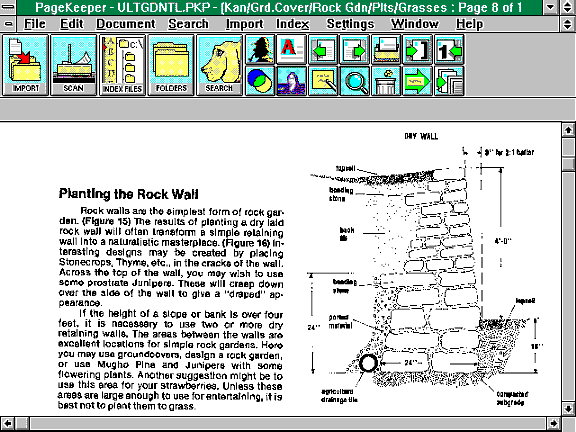 The Ultimate Garden Tool provides expert advice on herbaceous and woody plants, fruits, vegetables, herbs, insect and disease diagnosis and management, backyard wildlife, landscaping and much more. Whether you prefer organic, chemical or IPM methods, you'll find a usable solution here.
Visit our website at http://www.hortsoft.com for even more details. Try out our walk-through version to see how The Ultimate Garden Tool can enhance your garden. The Ultimate Garden Tool is available for only $95 plus $5 shipping and handling.
Quantity discounts are available for horticultural organizations who wish to use The Ultimate Garden Tool as a fund-raiser. Discounts are also available to cooperative extension personnel, master gardeners and any other organization whose information has been used in this reference collection.
We can also provide you with a customized version of The Ultimate Garden Tool, with documents tailored to your area of the country, or for a specific organization. E-mail us at mbolack@hortsoft.com for details or call us at 918-438-6569.
Whether you garden in your own yard, in a community garden, participate in horticultural organizations or work in an academic or commercial horticultural setting, The Ultimate Garden Tool will save you both hours of time and acres of bookshelf space.
Electric Mulch, Ltd., 1701 S. 138 E. Ave.,Tulsa, Ok., 74108
voice 918-438-6569, fax 918-438-0123
Return to the HortSoft HomePage